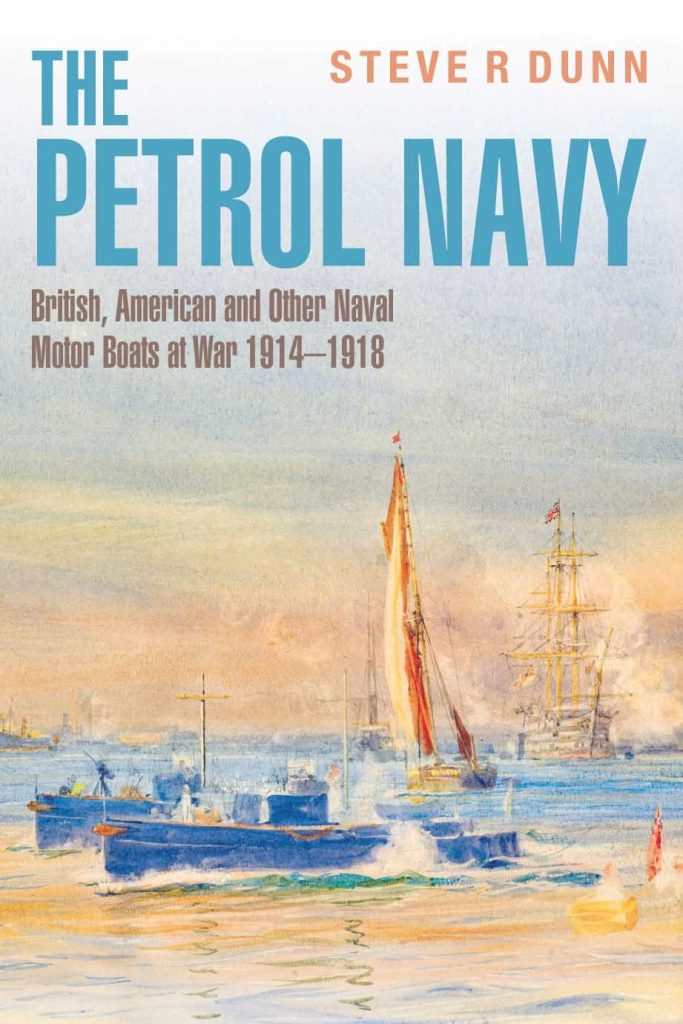 The Petrol Navy
British, American and Other Naval Motor Boats at War, 1914–1920
On the outbreak of war in 1914, the Royal Navy found it required more small craft
than it possessed. This gap was filled by the formation of the auxiliary force of
trawlers, drifters, yachts, etc which were pressed into service as minesweepers or
patrol vessels. As were motor pleasure boats.
For in 1912, a group of sporting motor boat owners had suggested to the Admiralty
that their vessels too could play a role in the defence of Britain. This led to the
creation of the Royal Naval Motor Boat Reserve (RNMBR). At the beginning of the
war, these men brought forwards their vessels and themselves for service in the
Auxiliary Patrol. They came with their boats, were given commissions in the RNMBR
and set to all types of inshore work. The boats' owners, now RNMBR officers, came
from the gentry and the monied middle class; they were gentlemen amateur sailors
turned warriors.
But by mid-1915, it was clear that the demands of naval duty had proved too much
for these leisure craft. A fortunate meeting in the USA led to their replacement by
Elco motor launches (MLs), of which 550 were purchased from the Elco company of
America. These craft were built in record time and commissioned into the Royal
Navy from October 1915.
The Petrol Navy relates how the MLs came into being, and of the men who created
them. The narrative also details the design and development of the MLs, their
production in Canada at the rate of one a day, their wartime use, and tells of the
three Victoria Crosses won in these craft.
MLs were not the only example of motor-powered small war craft in the Royal Navy.
In 1915, some serving naval officers developed the hydroplaning coastal motor boat
(CMB), which served with distinction in the later part of the war. At least 116 of these
remarkable boats were produced and the story of their development and deployment
is examined.
Post-war, both types saw valuable service in the occupation of the Rhineland and in
the Baltic campaign of 1918-1920, where the CMBs won three VCs.
When America entered the war, she built a fleet of so-called 'sub chasers', wooden-
built and designed to counter the threat from U-boats. They were deployed just
before the conflict's end and afterwards served with their British sisters in Europe
and Russia.
The Petrol Navy tells the stories of these new types of motor-driven boats, which
owed their existence to the development of the internal combustion engine, and the
war that they fought.
---
What the critics say
Available from all good booksellers, Amazon and Pen and Sword