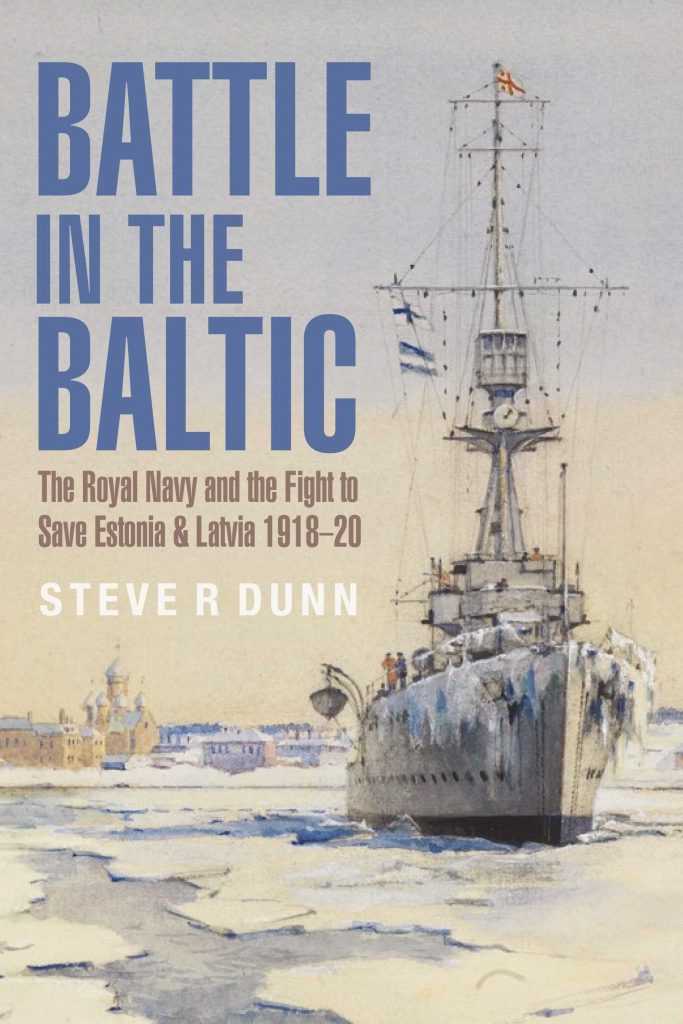 Battle for the Baltic
The Royal Navy and the Fight to Save Estonia and Latvia, 1918-1920
The First World War ended on 11 November 1918, but for the men of the Royal Navy there was no going home. Despite over four years of slaughter and worldwide war weariness, from December 1918 thousands of RN sailors and over 200 ships were sent to the Baltic Sea to fight a fierce and brutal battle against Bolshevik Russia and help protect the fragile independence of the newly established states of Estonia and Latvia.
Not surprisingly neither the British Government nor the public had any appetite for fighting such a war - the political fall-out might well bring down the Government. But Secretary of State for War Winston Churchill saw Russia being rapidly reduced by the Bolsheviks and was determined to stop them retaking the new Baltic countries, which he saw as a shield against the encroachment of the communism into Europe. As a result, worn out men and ships of the Royal Navy, firstly under Rear Admiral Edwyn Alexander-Sinclair, and then commanded by the fire-eating Walter Cowan, were sent into this maelstrom of chaos and conflicting loyalties, much against many of their wishes.
What made the situation even more challenging was they faced more than one opponent. The Communist forces of the Red Army and Navy, headed by Leon Trotsky, were unleashed by Lenin who declared 'the Baltic must become a Soviet sea'. And then there were the gangs of freebooting German soldiers, the Freikorps, intent on keeping the Baltic States under German domination. And White Russian forces were gathered, bent on retaking the Bolshevik stronghold of Petrograd and rebuilding the Russian empire.
So for the next thirteen months the navy was in action against Soviet ships and ground forces – inspired by their leader Trotsky who, referring to the enemy, ordered that 'they should be destroyed at any cost'. Sea battles raged between the Red Navy and the RN with losses on both sides. Tiny coastal motor boats sank the cruiser Oleg and badly damaged two Soviet battleships and a depot ship in actions which resulted in the award of three Victoria Crosses.
Royal Navy ships were also involved providing a constant artillery barrage in support of Estonian and Latvian forces, protecting their flanks and helping drive back their attackers, leading to eventual military success. Aircraft from newly arrived aircraft carriers also played a role. As one Latvian observer recorded, 'the Allied fleet rendered irreplaceable help to the fighters for freedom'. The navy even rescued British spies from the Russian mainland.
In February 1920 the combatants signed a treaty ending hostilities and an uneasy peace prevailed until 1939. An exhausted Royal Navy had helped hold the ring, fighting against Russian and German opponents alike. But there was a cost; 133 British sailors died in the campaign and seventeen RN ships were lost. Three VCs were won but the hardship and war-sickness brought about two separate mutinies, rare in a service which prided itself on its self-discipline.
Today few people are aware of this exhausting campaign and the sacrifices made by Royal Navy crewmen. This book tells their exciting but forgotten stories using much first-hand testimony and brings back to life a crucial naval operation which helped save the fledgling Baltic democracies.
---
What the critics say
'Battle in the Baltic is a fine tribute to those Briton's who served in the Baltic between 1918 and 1920, especially the 128 servicemen who made the ultimate sacrifice'
Warships International Fleet Review, April 2020
'Apart from its obvious interest to readers with an interest in naval history, this is a book that any naval professional or, dare I say, politician involved in foreign affairs should add to their reading list.  I recommend it highly'. 
The Australian Naval Institute, 22 March 2020
'This is a military campaign involving the British Navy that occurred after the end of the First World War, and it's a campaign I had no prior knowledge of. Pen and Sword regular author tells the tale of the RN's involvement in stopping the annexation of Estonia and Latvia by the Soviet Union'.
Books Monthly
'Dunn's text is well-presented and most readers will not get "lost" in the tangled web that highlights the story of this intervention. While most people in the West have forgotten about this particular Royal Navy action, it is fitting that both of these Baltic countries have not. Thanks to Dunn, we have now also been reminded of this endeavour'.
The Northern Mariner/Le marin du nord, (Vol. XXIX, No. 4, Fall 2019)
'This was an excellent book, very clear, precise and very well written by the author Steve Dunn who has written several naval books. What made this book good was that it was very readable for a beginner or for someone who had good knowledge of the subject. I found it astounding that this was a little written about subject and I do think it needs delving into more. I found this book a very good read and easy to get into.'
UK Historian
'Overall, Dunn mixes politics and combat action well in an interesting narrative …..Dunn's accounts of the fighting, and there was lots of it, are well written…. this is a valuable addition to the history of the Royal Navy and the United Kingdom's role in the post-WWI world'.
Robert Neil Smith, Naval Wargaming
Available from Amazon, Pen and Sword and all good booksellers