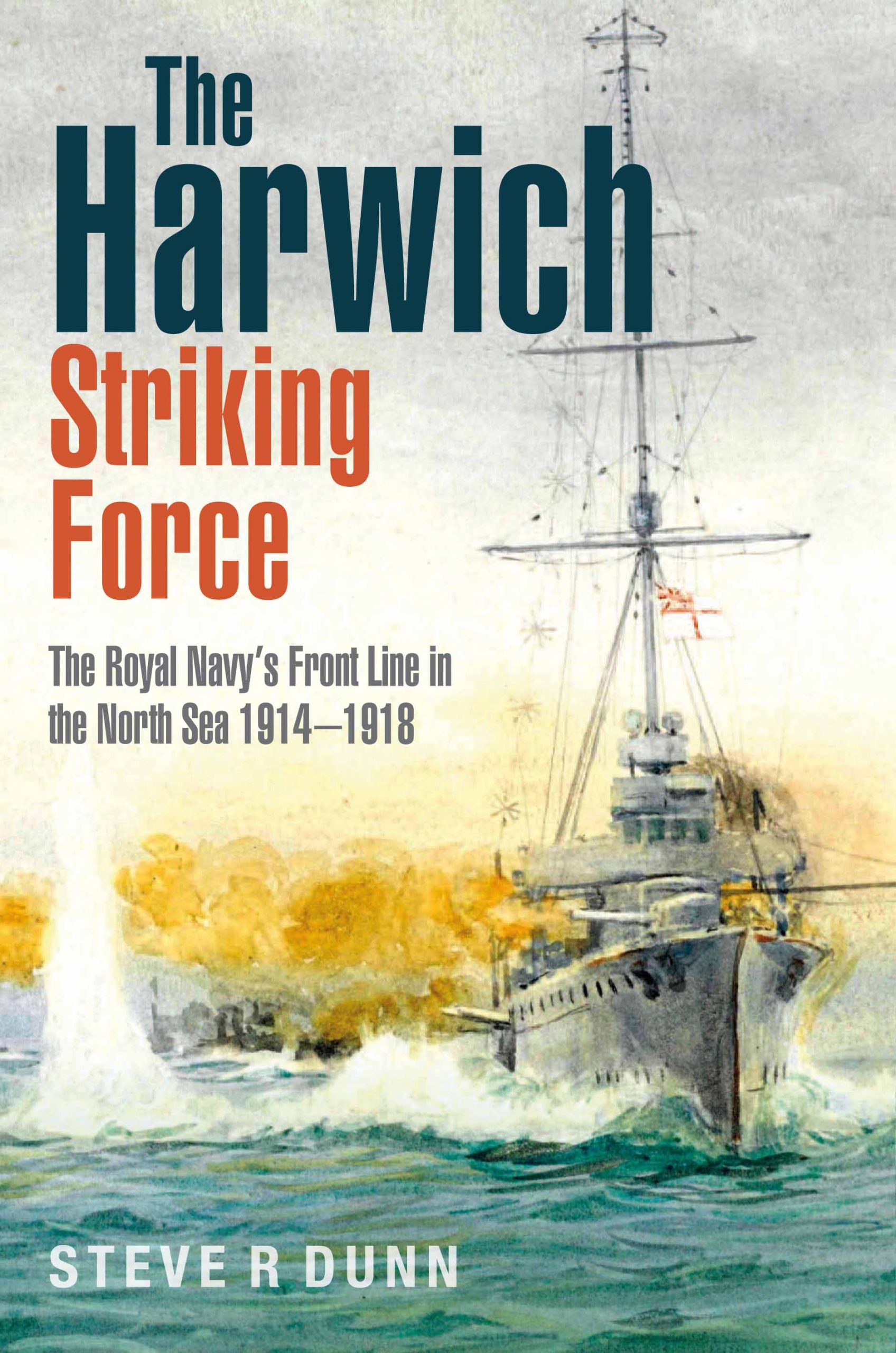 The Harwich Striking Force
The Royal Navy's Front Line in the North Sea, 1914-1918
'The Harwich Force has made its name and will not be forgotten during the future
annals of history'; so said Rear Admiral Sir Reginald Tyrwhitt on Armistice Day 1918.
But today, that fame has not endured. Yet for the four and half years of the First
World War, the Harwich Striking Force was the Front Line for the Royal Navy, a
force of cruisers and destroyers operating out of the eponymous port and keeping
sovereignty of the seas for Britain and her Allies.
Under a charismatic and aggressive leader, Reginald Yorke Tyrwhitt, affectionately
known for most of the war as Com (T), U-boats, German cruisers, destroyers and
light craft all met their ends at the hands of the Force, as did enemy seaplanes and
Zeppelin airships. The Harwich ships were at sea almost daily throughout the war,
sweeping the seas for an elusive enemy. The Force haunted the German coast and
the Friesian Islands, it pioneered aerial attack from the sea, naval carrier aviation
and combined air/sea operations, hunted for submarines and escorted minelayers in
the North Sea. Officers of the Harwich Force developed the type of hydroplane
vessel known as a coastal motor boat. The Harwich Force fought German cruisers,
destroyers and torpedo boats, took part major naval battles alongside the Grand
Fleet's battlecruisers and protected merchant ships operating in the dangerous
waters around Denmark, the Netherlands, Germany and Britain, including providing
close escort for the invaluable food convoys from Holland, the 'Beef Trip'. And yet,
strangely, little has been written about the activities of the Force and less still at book
length.
The narrative also considers the role played by the other Royal Navy formations at
Harwich, the submarines, the Auxiliary minesweeping and patrol vessels, the
aviators and their aircraft at Felixstowe seaplane base and not least, the town of
Harwich itself.
And when the battle was finally won, Tyrwhitt, the Striking Force and Harwich itself
gained further fame when the entirety of the German U-boat fleet was surrendered
there.
Lavishly illustrated, this volume is a testament to the sacrifice, the men and the grit of
the Harwich Force and the key part that they played in the winning of World War
One.
---
What the critics say
'I could not put it down. You have done all those brave men a great service'
Letter to the author from Sir Reginald Tyrwhitt, 3rd Baronet, grandson of the Admiral Tyrwhitt who commanded the Harwich Force.
This book is a fascinating and interesting read, well populated with photographs of the ships, the aircraft and notable personnel. There are chapters dedicated to the Auxiliary Force and the work at Felixstowe, and, most interestingly, the effect that the force had on Harwich and its surrounds. Highly recommended.
Les Brown, Small Warships
Available from all good booksellers, Amazon and Pen and Sword